Synthesis of N-glucuronide Metabolites
N-glucuronides: on the rise?
We've observed an increase in requests for synthesis of N-glucuronides over the last couple of years. We speculate that this may be due to the increasing use of N-heterocyclic chemistry in the design of new small molecule drugs, and pan company strategies to reduce CYP metabolism. The situation is further complicated by the high interspecies variability in formation of some N-glucuronides, especially aliphatic tertiary amines and aromatic N-heterocycles. UGT1A4 and UGT2B10 are key enzymes responsible for N-glucuronidation reactions in humans, rates of which can be much higher than in other animals. To compound this, synthesis of N-glucuronides is not always straightforward, and can be further muddied by metabolite stability issues, complicating interpretation of data.
How do we make N-glucuronides?
Microbial biotransformation has broad utility for production of O–, acyl, N-carbamoyl and some N-glucuronides. For the latter, success rates are boosted by application of our highly successful proprietary late-stage chemical glucuronidation conditions, as well as utilising liver fractions (S9s or microsomes). Purification from biological matrices such as urine, where available, is another strategy to access enough metabolite for MetID. Only tens of micrograms are needed for cryoprobe NMR spectroscopy for definitive identification of a metabolite's structure.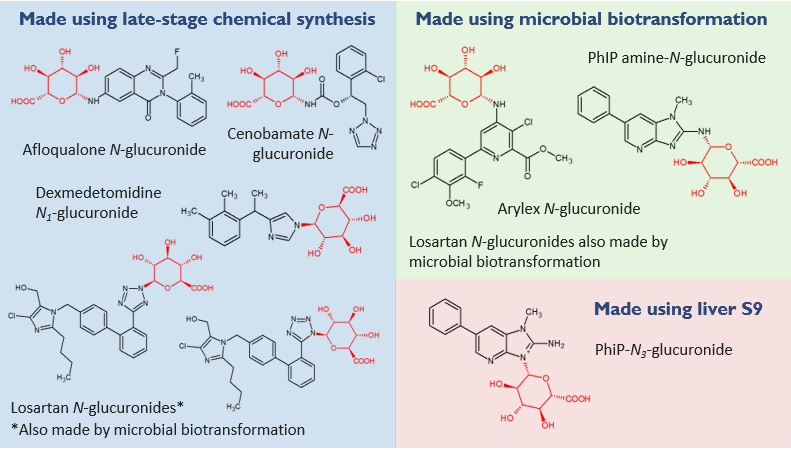 In recent years, FDA guidance has advised initiating human metabolite profiling earlier in drug development, emphasizing the importance of metabolite identification and quantification to evaluate a drug metabolite's safety and pharmacological activity. Praliciguat (IW-1973) is a soluble guanylate cyclase (sGC) stimulator in Phase 2 clinical trials for diabetic nephropathy and heart failure with preserved ejection fraction (HFpEF). During studies on metabolism of praliciguat in preclinical species and in human hepatocytes, a prominent direct O-glucuronide metabolite was detected.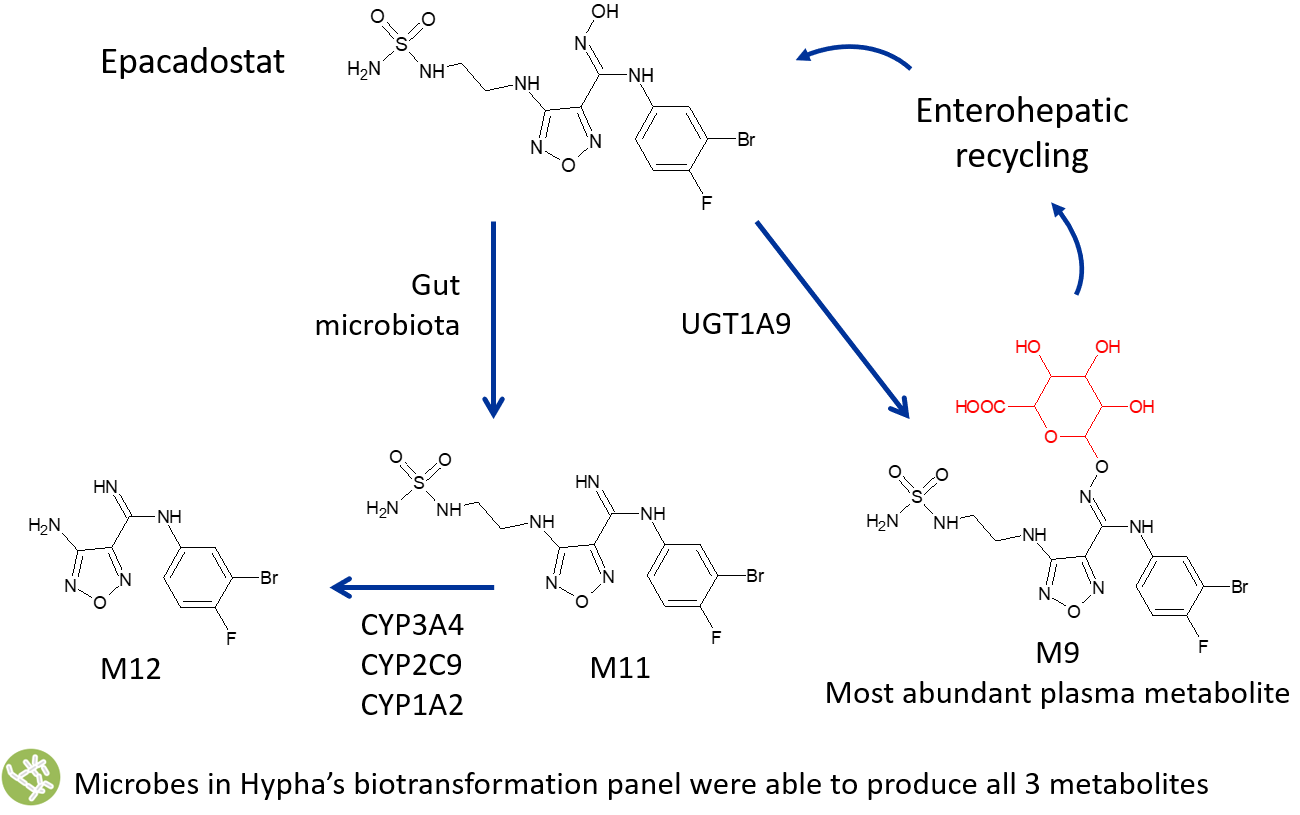 Formation and scale-up of human metabolites formed through mixed metabolic pathways is possible using Hypha's microbial biocatalysis system. In vivo human metabolism of Incyte's IND epacadostat (EPA) forms 3 major circulating metabolites, from both primary and secondary pathways. Glucuronidation of EPA forms M9, the dominant metabolic pathway, in conjunction with formation of an amidine M11 and an N-dealkylated metabolite, M12.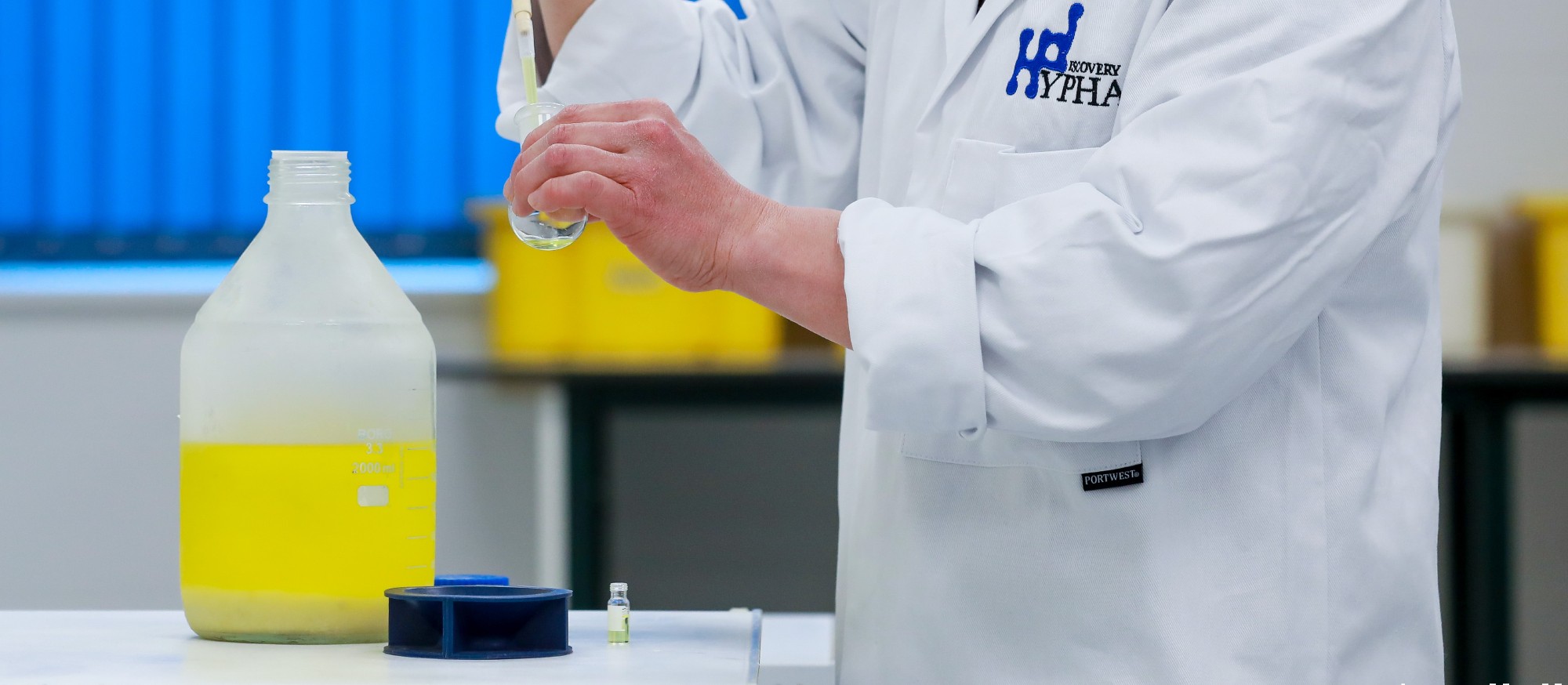 The FDA's 2020 MIST guidance states that phase 2 conjugates are generally pharmacologically inactive, however where a potentially toxic conjugate, such as an acyl glucuronide is formed, additional safety assessments may be needed. Idiosyncratic drug toxicity of carboxylic acid-containing drugs can be caused by the formation of reactive acyl glucuronides, which have the ability to directly acylate proteins and undergo intramolecular rearrangement producing reactive aldehydes leading to protein glycation.