PolyCYPs+ Kits for Metabolites
PolyCYPs+ Metabolite Screening Kits
PolyCYPs+ kits have a high success rate of producing human metabolites. The enzymes are formatted into a screening kit together with recombinant human aldehyde oxidase (AOX1) and the main human hepatic flavo-containing monooxygenase (FMO3), which allows the convenient and cost-effective in-house testing of compounds for production of many phase 1 metabolites. PolyCYPs+ kits contain 18 PolyCYP isoforms with human AOX1 and FMO3. Other human FMO isoforms are also available from Hypha for testing.
"I see different types of biotransformation, for example, N-dealkylation, aryl hydroxylation, alkyl hydroxylation and N-dearylation."
"The protocol is very easy to understand and to follow. I appreciated the positive control for the kit for which there was a very high conversion."
"The system is about as easy as it can be."
Content of PolyCYP+ metabolite kits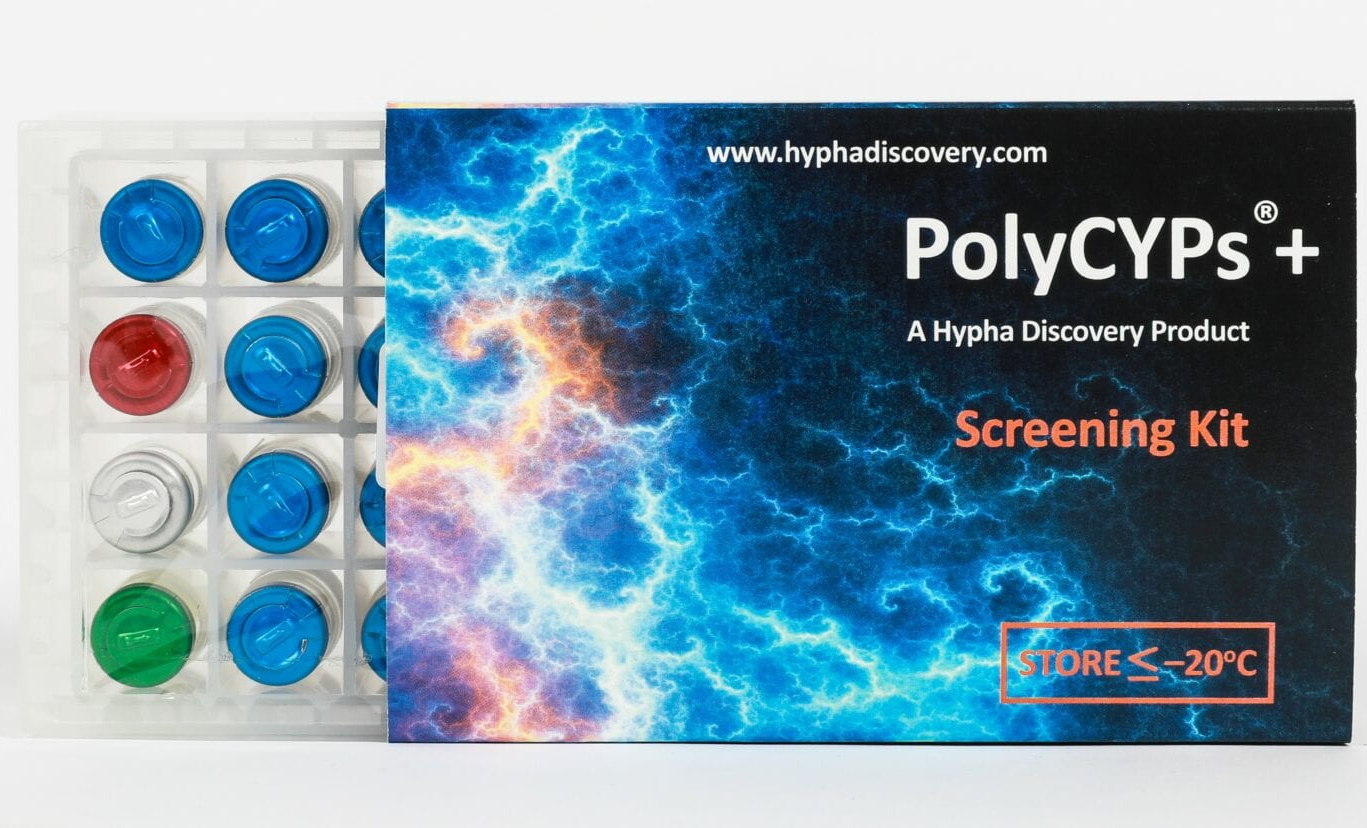 All reagents are provided as lyophilised powders in sealed vials together with a 24-well reaction plate and air-permeable seal. Everything is included in the kit that you will need to perform the reaction in your lab, just add your compound and water!
PolyCYP enzyme reactions are fully scalable from mg to gram quantities through a number of routes, either by resupply of lyophilised enzymes for mg scale production in house, or larger scale production at Hypha, with optional purification and structure elucidation. We are also able to scale reactions derived from the human aldehyde oxidase (AOX1) and flavo-containing monooxygenase 3 (FMO3) contained in the PolyCYPs+ kit.
Multiple 10ml scale-up vials, suitable for converting 1mg of parent per vial, can be ordered off-the-shelf for any isoform for in-house scale-up in a kit format.  Co-factors and formulant are also included along with a 24-well block suitable for performing 4 x 2.5 ml reactions. Other incubation formats can also be used, as recommended in the instructions.
N.B. Scale-up vials of lyophilised AOX1 are available, however we observe superior conversions using permeabilised whole cell reactions and thus it is recommended to scale-up AOX1 reactions at Hypha.
For larger quantities of any PolyCYPs+ products, we offer reactions undertaken at Hypha using cell paste from the recombinant E.coli or streptomycete clone containing the enzyme of interest. Contact us to find out more about this option.
Hypha also offer a service option should you prefer us to undertake scale-up reactions, or to process and purify metabolites from reaction extracts. We also have expertise in structure elucidation of products using cryoprobe NMR spectroscopy.
Case Studies - PolyCYPs in use
PolyCYPs metabolite kits can be used to generate radiolabelled CYP metabolites of drugs and agrochemicals for comparison with radio profiles from metabolism studies.
The benefits of this approach are two-fold: firstly, the cleaner matrix offered by PolyCYPs provides a less complex background against which to structurally characterise low-level metabolites by LC-MS/MS, which otherwise can be challenging especially for agrochemical matrices such as soil and plant extracts, animal faeces and bile.
Secondly, in situations where definitive identification by NMR is required, or purified metabolites are required for activity or liability testing, a PolyCYPs product matching the required metabolite can be scaled up to generate purified material for these applications, without prior knowledge of the metabolite structure.  
In this application a 14C-radiolabelled agrochemical was incubated with PolyCYPs enzymes and the metabolites produced compared with those detected in goat faeces as part of a mass balance study conducted by Charles River. High resolution LC-MS/MS showed oxidation of cycloalkyl and aromatic carbons of the compound by the PolyCYPs enzyme giving the best conversion for this compound. Metabolites in this PolyCYPs sample matched the radiolabelled metabolites in the goat faeces sample, thereby providing cleaner MS/MS data for interpretation in addition to an immediate route to access and scale-up the goat CYP-derived metabolites.


In this case study at least 2 mg of a monohydroxylated metabolite (M4), originally observed in rat liver microsomes, was required by a US pharma company. Using PolyCYPs, the target metabolite was supplied to the client together with a Certificate of Analysis within 22 days from receipt of order, exemplifying the short timelines achievable using PolyCYPs to access CYP-derived metabolites.

Once a target metabolite or oxidised derivative has been synthesised by one or more PolyCYPs enzymes in the screening kit, a scale-up reaction with the best performing isoform is performed in order to access mg amounts of material for MetID and biological testing. The quickest and most cost-effective route for generating low mg amount of product is through the use of scale-up vials. Higher amounts of product can be generated using either a recombinant E.coli cell paste or through fermentation of a recombinant streptomyces clone expressing the isoform responsible for the biotransformation.

Hypha's PolyCYPs kits are in routine use by pharma and agchem companies for producing human and other mammalian metabolites. One application involves use of PolyCYPs for creating radiolabelled metabolites for direct comparison with the radio profiles from mass balance and distribution study samples, necessary for regulatory filing. PolyCYPs provides a clean route for scalable access to more of the CYP-derived metabolites observed in these matrices, for definitive MetID and any tox studies deemed necessary. This is especially useful where low concentrations or unstable metabolites in the mass balance sample make structural identification difficult.
We offer a number of solutions for synthesis of phase 1 and phase 2 metabolites using our one-stop metabolite shop approach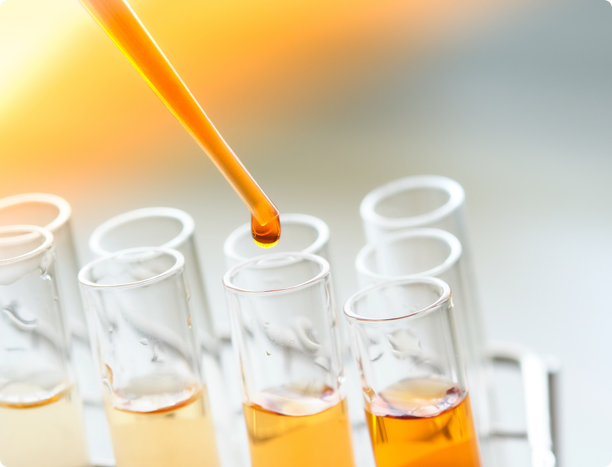 "Access of hydroxylated compounds through PolyCYPs has saved our company time and resources. We are sure that we will have more opportunities to work together in the future."
Ready to begin? Our scientists are available to talk through your requirements
Hypha Discovery is a UK-based CRO supporting pharmaceutical and agrochemical companies worldwide through the production of metabolites and new derivatives of drugs and agrochemicals in discovery and development.