Recombinant Human Aldehyde Oxidase
Drug metabolism mediated by AO has become more prevalent as an oxidative clearance pathway in recently designed drugs derived from nitrogen-containing heterocycles. Further, mixed AO/P450 substrates may be subject to metabolic shunting, an important consideration during toxicology and DDI assessment of drugs which may require access to the metabolites in question.
Aldehyde oxidase is a cytosolic molybdoflavo enzyme with broad specificity which catalyses the oxidation of aromatic and aliphatic aldehydes and various nitrogen-containing heteroaromatic rings, as well as the reduction of several functional groups and hydrolysis of amides.
AO has profound species differences in expression and activity toward various substrates which is not always identified prior to clinical studies due to the lack of reliably predictive in vitro and in vivo models, which consequently can negatively impact on the development of several drug candidates. It is thus important to understand whether drug compounds are susceptible to aldehyde oxidase metabolism and identify any significant metabolites arising from this mechanism.
Screening for an oxidised metabolite of a drug candidate
In a recent client project conducted by Hypha on behalf of a client, a drug was screened against a number of PolyCYP enzymes, AOX1 and all five human FMOs. The structure was such that it would likely be susceptible to oxidation by AO, as well as other biotransformations. Several oxidised metabolites were produced by PolyCYPs isoforms; however, the target human metabolite was only observed to match those produced in the AO incubations, informing a path to chemical synthesis of the putative metabolite.
Provision of multiple human phase I metabolites via microbial biotransformation
Zhou and colleagues at Lilly presented a poster at the 2018 ISSX meeting in Montreal on "Elimination of [14C]-LY3023414 by Aldehyde Oxidase and CYP Enzymes in Humans Following Oral Administration."  Both AO and CYP enzymes were responsible for the metabolic clearance of LY3023414 (samotolisib) with the non-CYP enzymes mediating approximately half of the clearance of the drug. The predominant metabolic clearance pathways were aromatic hydroxylation of the quinoline moiety (M2), N-demethylation (M5) and quinoline oxidation with N-demethylation (M12).
No metabolism was observed when tested vs 5 human recombinant CYPs, however screening of LY3023414 against a subset of Hypha's biotransforming strains generated a number of metabolites. The best microbial strain was scaled-up to 6L to access the AO mediated hydroxylated metabolite (M2, 20.1mg) and an N-oxide (M4, 66.3mg) . Subsequent incubation of the synthesised CYP intermediate M5 vs Cyno S9 enabled production of a CYP/AO mediated metabolite (M12, 18.4mg). Metabolites were purified to >95% purity by Hypha and the structures confirmed by LC-MS and NMR.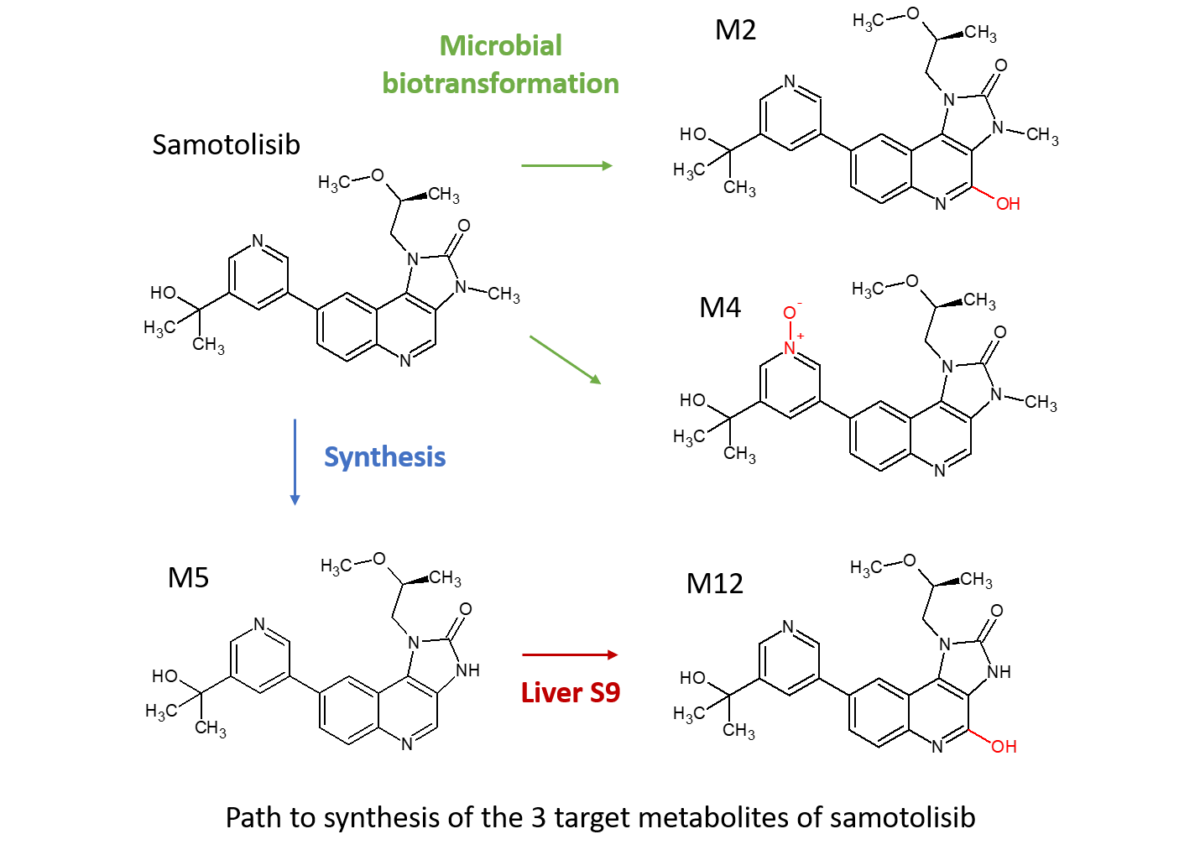 There has been a notable increase in metabolism of new drug candidates through non-CYP phase I pathways such as those mediated via aldehyde oxidase (AO).1 Further, mixed AO/P450 substrates may be subject to metabolic shunting, an important consideration during toxicology and DDI assessment of these drugs.2 Access to metabolites may thus be important to consider for drugs with mixed metabolism.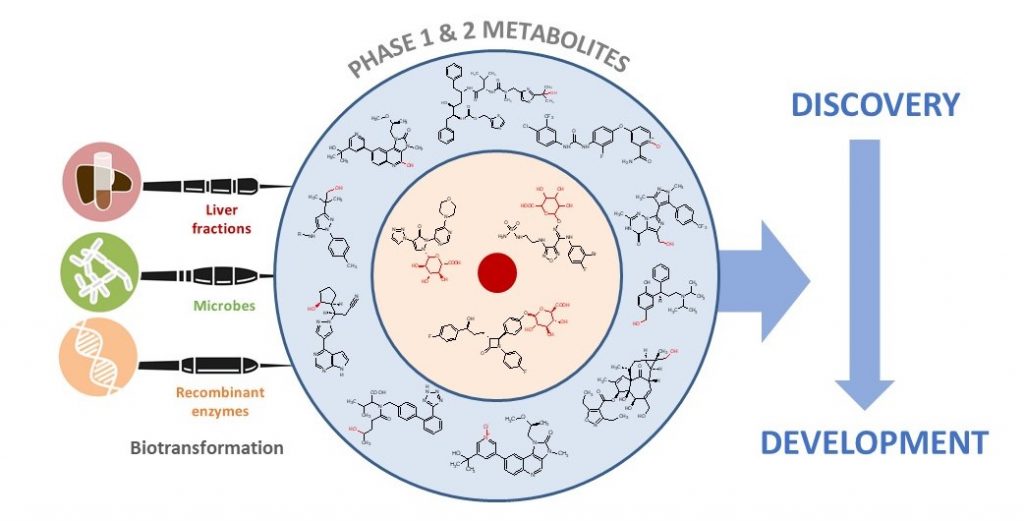 In this paper, authors from Hypha and Incyte Corporation discuss the impact and application of biotransformation of drugs by mammalian systems, microorganisms, and recombinant enzymes, covering active and reactive metabolites, the impact of the gut microbiome on metabolism, and how insights gained from biotransformation studies can influence drug design.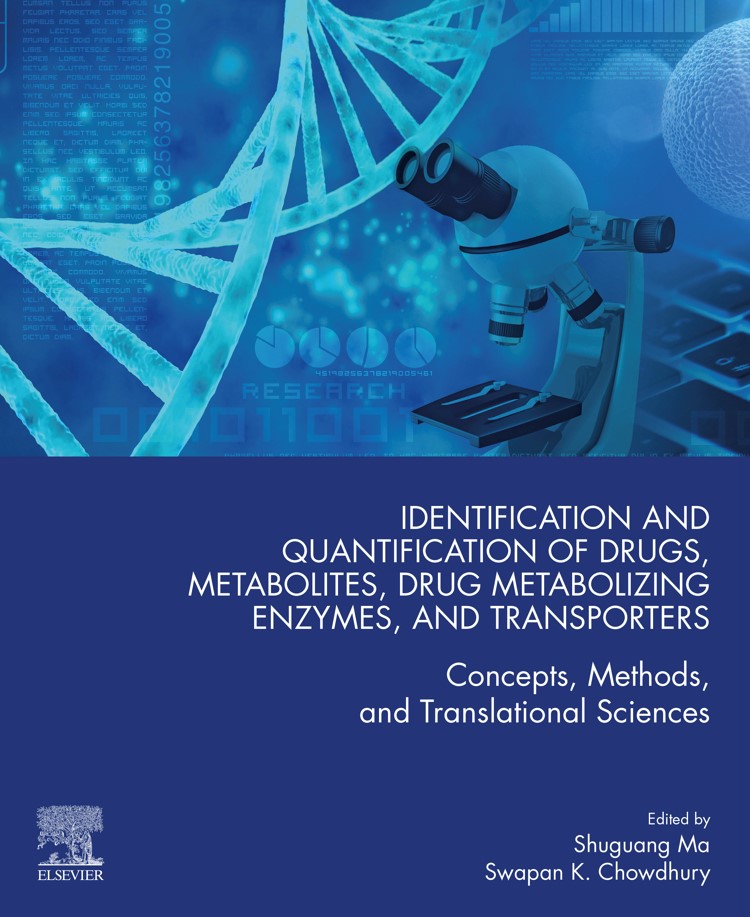 In Chapter 4 of the book on "Identification and quantification of drugs, metabolites, drug metabolizing enzymes and transporters", Hypha authors summarise the different methods employed for producing metabolites of drugs, illustrated with representative examples from the literature and work undertaken at Hypha. The chapter also includes a discussion and examples of the use of NMR spectroscopy for structure elucidation of metabolites.
See our other solutions for metabolite synthesis
Hypha's One-Stop Metabolite Shop enables synthesis, purification and characterization of all the main types of mammalian phase 1 and 2 metabolites.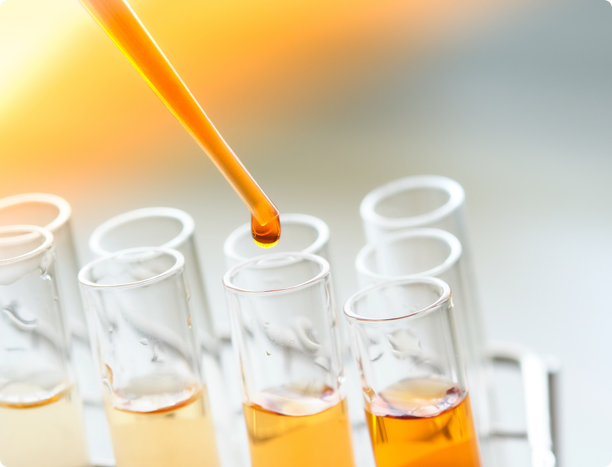 "Hypha Discovery has been a valuable metabolite ID partner. Hypha have provided biotransformation, metabolite purification and structure elucidation answers to some of our most challenging metabolism and metabolite ID problems. We really appreciate the breadth of expertise available at Hypha Discovery and will definitely reach out for future work."
Ready to begin? Our scientists are available to talk through your requirements
Hypha Discovery is a UK-based CRO supporting pharmaceutical and agrochemical companies worldwide through the production of metabolites and new derivatives of drugs and agrochemicals in discovery and development.