Julia and Frank are looking forward to the 25th North American ISSX Meeting being held from 10-13 September 2023 in Boston. We will be exhibiting at booth 205 so please drop and say hello if you're also going to ISSX.
We will also be presenting a poster P131 at the conference on "Synthesis and characterization of human metabolites of the echinocandin drug rezafungin by microbial biotransformation".  Julia will be in attendance at the scheduled author attended session 12:30 to 13:30 on Wednesday 13th September.
Hypha authors: Ravi Manohar, Adriana Gomez, Richard Phipps, Jonathan Steele, Stephen Wrigley, Liam Evans, Frank Scheffler, Julia Shanu-Wilson
Abstract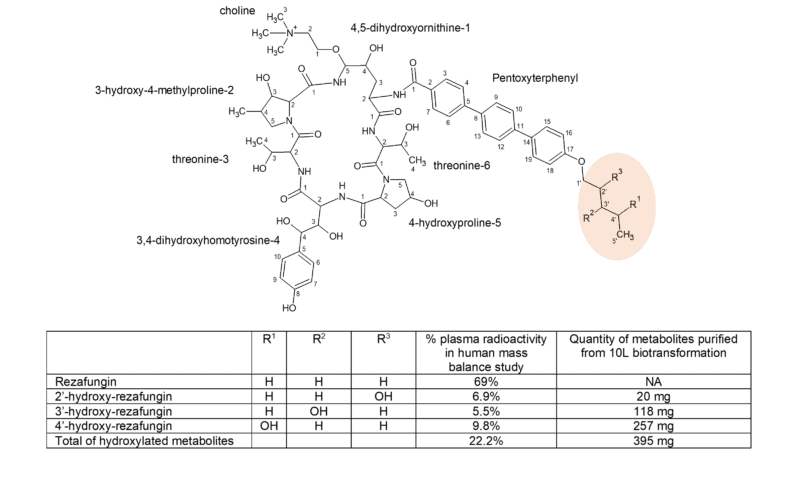 In March 2023, rezafungin (REZZAYO™) was approved by the FDA to treat candidemia and invasive candidiasis in adults with limited or no other treatment options. Rezafungin is an echinocandin with a chemical modification that confers high stability and a long half-life, allowing for front-loaded drug exposure with once-weekly dosing.
The quaternary ammonium side chain in rezafungin prevents the spontaneous degradative metabolism to a ring-opened peptide observed in previously approved antifungals in this class. Instead, metabolism is diverted to the end of the terphenyl, pentyl side chain.
In a single dose human mass balance study, although rezafungin was the most abundant circulating component in plasma, calculated at 69% of the total plasma radioactivity exposure (by AUC0-t), three hydroxylated metabolites were also in circulation, comprising 9.8%, 5.5%, and 6.9% of the total plasma radioactivity exposure. The rate of formation of these metabolites is slow and consistent with the slower elimination of rezafungin. Fecal excretion of parent drug is the major route of elimination.
In order to definitively identify and access the hydroxylated metabolites of rezafungin for biological testing and to act as reference standards, microbial biotransformation methods were explored. Following screening of rezafungin against a panel of microbes, a fungal strain was identified that could produce all three hydroxylated metabolites, as well as the more minor des-pentyl metabolite formed via O-dealkylation.
Optimization of conditions allowed a ten-fold increase in substrate dosing for the subsequent 10L scale-up biotransformation using the fungal strain identified in the screening step. Tens to hundreds of milligrams of the three hydroxylated metabolites, and a 1 mg amount of the des-pentyl metabolite, were purified. The structure of each metabolite was elucidated by NMR spectroscopy to reveal three isomers resulting from hydroxylation of the terphenyl, pentyl ether side chain. Biological testing revealed that the metabolites were inactive.
Reference
Ong V, Wills S, Watson D, Sandison T, Flanagan S. Metabolism, Excretion, and Mass Balance of [14C]-Rezafungin in Animals and Humans. Antimicrob Agents Chemother. 2022 Jan 18;66(1):e0139021. doi: 10.1128/AAC.01390-21. Epub 2021 Oct 18. PMID: 34662192; PMCID: PMC8765310.