Microbial Biotransformation
Production of a human disproportionate hydroxylated metabolite
Ingenol disoxate is a chemically-stable topical dermal clinical drug candidate that was being developed by one of Hypha's clients for treating actinic keratosis. Profiling of ingenol disoxate against multiple species of hepatocytes, revealed M27 as a predominant metabolite, particularly in human hepatocytes. Although accurate mass spectroscopy indicated the metabolite was mono-hydroxylated in the ingenol moiety, the precise location of the hydroxyl group could not be identified. Consequently, chemical synthesis was not feasible, nor were bioanalytical quantification and further biological testing possible. Hypha subsequently solved these issues for the client using microbial biotransformation.
Hypha's microbial screen highlighted fourteen strains that produced oxidised metabolites of ingenol disoxate. After precise chromatographic matching by the client, the best-yielding strain was scaled up to produce a target amount of 10-50 mg of the human metabolite M27.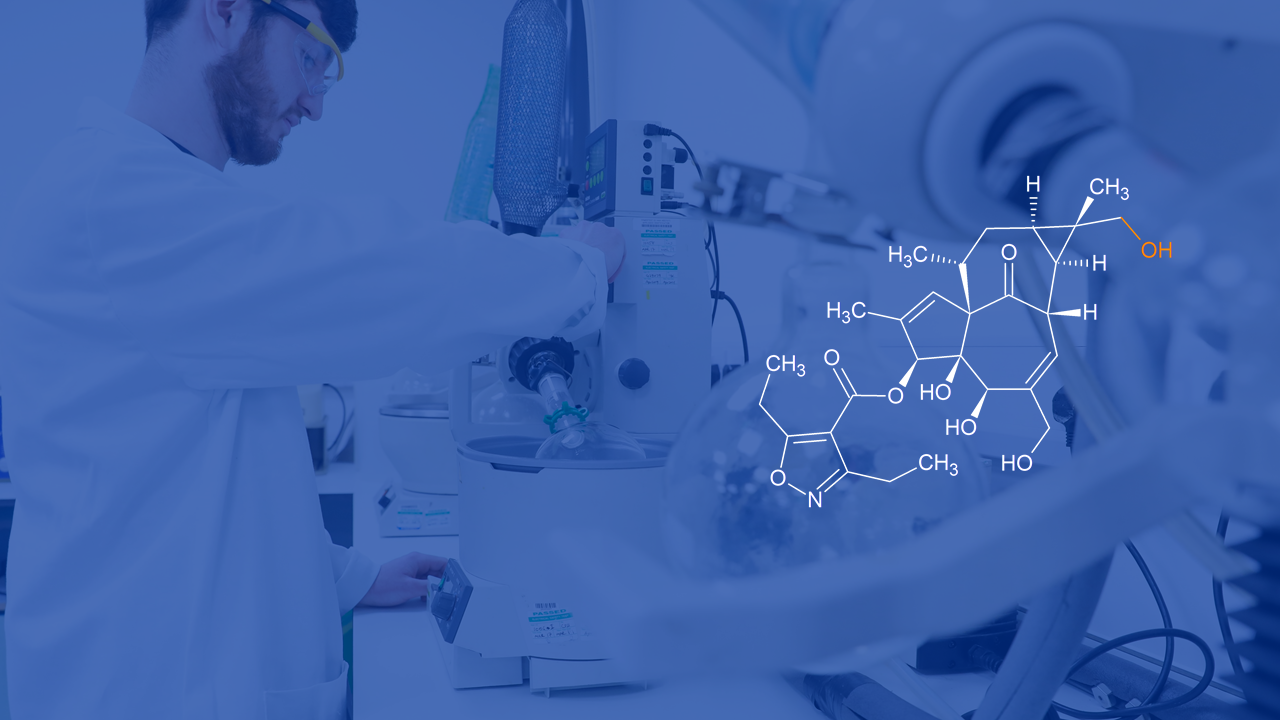 Following scale-up, 86 mg of M27 was supplied to the client at >99% purity, who identified the metabolite as 16-hydroxyingenol disoxate. In addition to this material, 5 mg of a dihydroxylated derivative was supplied for evaluation. A subsequent request for more M27 for further studies needed a minimum of 200 mg, with Hypha supplying 415 mg of M27 to the client at 99% purity.
Having plentiful supply of this material meant that scientists were able to confirm the structure of the major metabolite via NMR spectroscopy and undertake PK profiling assays, as well as respond immediately to a later request by the FDA for drug-drug interaction studies to be undertaken with the metabolite.
Reference
Carlsen et al., 2016. Biosynthesis, structural identification and quantification of low pg/ml levels of a major human metabolite of a dermal drug candidate. European Bioanalysis Forum, Barcelona, Nov. 2016.
Production of metabolites of epacadostat arising from multiple pathways
Formation and scale-up of human metabolites formed through mixed metabolic pathways is possible using Hypha's microbial biotransformation system.
In vivo human metabolism of epacadostat (EPA) forms 3 major circulating metabolites, from both primary and secondary pathways. Glucuronidation of EPA forms M9, the dominant metabolic pathway, in conjunction with formation of an amidine M11 and an N-dealkylated metabolite, M12. Boer et al. showed reductive metabolism by gut microbiota results in M11, which is absorbed and further modified by CYP enzymes to form the cleaved secondary metabolite M12.
Hypha's microbial panels provided a route to achieve formation of all three human metabolites, with several strains shown able to effectively biotransform EPA. Different strains and dosing regimens were found to be optimal for production of each metabolite. Although M12 was produced by the microbes, it was more easily synthesised.
Scale-up of the most productive biotransforming strains for M9 and M11 enabled the supply of 112mg of the glucuronide and 69mg of the gut metabolite at 95% purity to the client, which permitted the qualification of the metabolites for their drug-drug interaction potential.
Our other solutions for accessing and characterising metabolites
Hypha's One-Stop Metabolite Shop enables synthesis, purification and characterization of all the main types of mammalian phase 1 and 2 metabolites.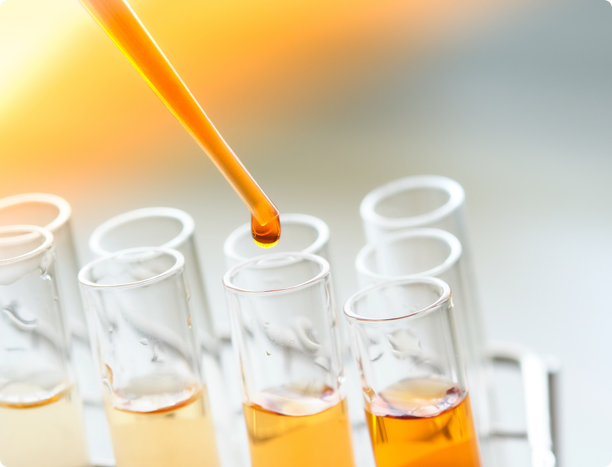 Hypha Discovery has been a valuable metabolite ID partner. Hypha have provided biotransformation, metabolite purification and structure elucidation answers to some of our most challenging metabolism and metabolite ID problems. We really appreciate the breadth of expertise available at Hypha Discovery and will definitely reach out for future work.
Ready to begin? Our scientists are available to talk through your requirements
Hypha Discovery is a UK-based CRO supporting pharmaceutical and agrochemical companies worldwide through the production of metabolites and new derivatives of drugs and agrochemicals in discovery and development.