Multiple methods for making metabolites
Hypha are go-to experts in the provision of phase 1 and phase 2 metabolites to pharma and agrochemical companies. We have worked with many companies and organisations worldwide to provide metabolites for discovery and development-stage projects through our one-stop metabolite shop approach.
Our "One-Stop Metabolite Shop" concept comprises a comprehensive suite of technologies to enable synthesis of even the most difficult-to-synthesise metabolite. Human and other mammalian phase I and phase II metabolism of drugs and agrochemicals can be synthesised using a variety of methods to maximise the chances of success, including chemical synthesis, mammalian liver fractions (S9/microsomes), microbial biotransformation, recombinant enzymes such as PolyCYPs, as well as the purification of metabolites from biological matrices.
Hypha scientists are experts in structural elucidation via cryoprobe NMR spectroscopy. Certificates of Analysis can be supplied  incorporating use of quantitative NMR (qNMR) as a method for quantitation of content and purity.
Clients regularly ask Hypha to produce metabolites for unambiguous identification, for use as quantitation standards or larger amounts for pharmacology and toxicology studies to satisfy regulatory guidelines, including the FDA's MIST guidelines. Metabolites arising from a variety of pathways are accessible, including both CYP and non-CYP derived phase I mechanisms and phase II conjugates.
We also provide a service for accessing metabolites made by bacteria in the gut. Our gut metabolite service involves incubation of the compound  with pooled human faecal samples under anaerobic conditions.
We are typically asked to produce the following metabolite types:
Our one-stop shop solutions for accessing and characterising metabolites
Hypha's One-Stop Metabolite Shop enables synthesis, purification and characterization of all the main types of mammalian phase 1 and 2 metabolites.
Use of multiple techniques to access CYP and AOX derived metabolites of a client drug compound
Zhou et al. presented a poster at a recent ISSX meeting on "Elimination of [14C]-LY3023414 by Aldehyde Oxidase and CYP Enzymes in Humans Following Oral Administration."  Both AOX and CYP enzymes were found to be responsible for the metabolic clearance of LY3023414 with the non-CYP enzymes mediating approximately half of the clearance of the drug. The predominant metabolic clearance pathways were aromatic hydroxylation of the quinoline moiety (M2), N-demethylation (M5) and quinoline oxidation with N-demethylation (M12).
Screening of LY3023414 against a subset of Hypha's biotransforming microbes generated a number of metabolites, where no metabolism has been observed when tested against 5 human recombinant CYPs. The best microbial strain was scaled-up to 6L to access target metabolites M2 and M4. Subsequent incubation of the synthesised intermediate M5 with Cyno S9 enabled production of a further target metabolite M12. Metabolites were purified to > 95% purity by Hypha and the structures confirmed by NMR.  The AOX mediated hydroxylated metabolite (M2, 20.1mg) and an N-oxide (M4, 66.3mg) were made via microbial biosynthesis and a CYP/AO mediated metabolite (M12, 18.4mg) was generated through liver S9 incubations.
Provision of an N-glucuronide, aryl hydroxylated metabolite and an indirect O-glucuronide of the drug cenobamate
A US pharma client required > 200 mg of three metabolites of a drug; an N-glucuronide (M1), an indirect O-glucuronide (M2b) and a hydroxylated metabolite (M8b). As part of this project, multiple components of Hypha's one-stop metabolite shop were employed, including chemical synthesis, microbial biotransformation as well as purification and structure elucidation by NMR.
M1, a major N-glucuronide, was accessed using chemical synthesis. Key to successful synthesis were the mild deprotection conditions used in the late-stage chemical glucuronidation procedure, resulting in the purification of a gram of M1.
In addition to the N-glucuronide, an indirect O-glucuronide, M2b, and its aglycone, M8b, were also needed. To make M8b, the position of the hydroxyl group first had to be identified. To achieve this, Hypha chemists purified a small amount of M2b from human urine supplied by the client, and elucidated the structure of the conjugate using cryoprobe NMR spectroscopy. Then, knowing the position of hydroxylation from the structure of the phenolic glucuronide, 100s of mgs of M8b were synthesised.
In order to access large amounts of M2b, a different approach was needed as this glucuronide was not amenable to chemical synthesis due to instability and formation of side products. Instead, M2b was successfully made through microbial biotransformation of the aglycone M8b. Following a screen to determine the best microbial catalyst, 560 mg of M8b was fed to one of Hypha's biotransforming bacterial strains, from which 254 mg of M2b was purified.
The three purified metabolites were supplied to the client along with certificates of analysis.
Key features of Hypha's one-stop metabolite shop
In recent years, FDA guidance has advised initiating human metabolite profiling earlier in drug development, emphasizing the importance of metabolite identification and quantification to evaluate a drug metabolite's safety and pharmacological activity. Praliciguat (IW-1973) is a soluble guanylate cyclase (sGC) stimulator in Phase 2 clinical trials for diabetic nephropathy and heart failure with preserved ejection fraction (HFpEF). During studies on metabolism of praliciguat in preclinical species and in human hepatocytes, a prominent direct O-glucuronide metabolite was detected.

This poster illustrates the application of a new biocatalysis kit, PolyCYPs®, to enable scalable synthesis of CYP-derived metabolites of drugs. The PolyCYPs platform is comprised of a set of recombinant cytochrome P450 enzymes and redox partners cloned from some of the talented actinomycetes in Hypha's biotransformation panel. Enzymes in the kit catalyze the oxidation of a wide variety of substrate types to generate multiple mammalian and microbial-derived CYP metabolites.
Metabolism of drugs often results in the formation of major circulating metabolites derived from mixed clearance pathways, and can include both primary and secondary metabolites. Human metabolism of Incyte's investigational new drug epacadostat (EPA) forms 3 major circulating plasma metabolites (Boer et al., 2016). Glucuronidation of EPA to form M9 is the dominant metabolic pathway, in conjunction with formation of an amidine M11 and an N-dealkylated metabolite, M12. Boer and co-workers showed that reductive metabolism by gut microbiota results in M11, which is then absorbed and further modified by CYP enzymes to form the secondary metabolite M12.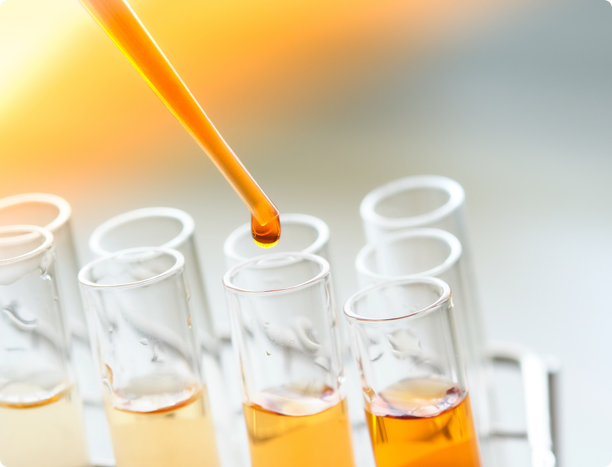 Hypha has exceeded our expectations and is now a 'go to' lab for biosynthesis/synthesis/purification. Hypha's team was a pleasure to work with and our complicated projects were handled with expertise and professionalism. Their excellent scientific communication and project data were extremely comprehensive and we received updates throughout the process. We will definitely be Hypha Discovery clients for life
Ready to begin? Our scientists are available to talk through your requirements
Hypha Discovery is a UK-based CRO supporting pharmaceutical and agrochemical companies worldwide through the production of metabolites and new derivatives of drugs and agrochemicals in discovery and development.