Experts in Metabolite
Synthesis, Purification and Natural Products
Supporting pharmaceutical and agrochemical companies globally
Your trusted partner in pharmaceutical and agrochemical R&D
What we do
Hypha Discovery is a specialist CRO supporting pharmaceutical and agrochemical companies worldwide through the production of metabolites and late-stage derivatives of drugs and agrochemicals in discovery and development.
We are experts in the scalable synthesis, purification and identification of drug metabolites and oxidised derivatives of lead compounds, and also possess a wealth of experience in the production, purification and structure elucidation of natural products.
Solutions for metabolite synthesis
PolyCYPs+ screening kits comprise 18 PolyCYP isoforms together with the addition of other phase 1 enzymes. Human aldehyde oxidase (AOX1) and the main human hepatic flavin-containing monooxygenase (FMO3) are included in the kit, with the other human FMO isoforms, available separately at Hypha.
Inclusion of multiple PolyCYPs isoforms broadens coverage of reactions, and which have been proven to produce human and other mammalian CYP-derived metabolites including multi-step metabolites and metabolites of low turnover drugs.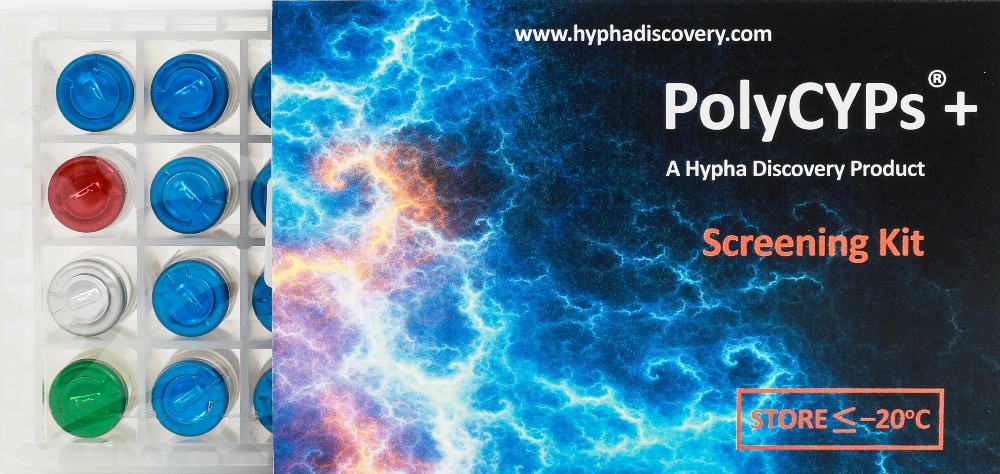 Simple, Effective, Scalable
Produce CYP, AOX & FMO metabolites
Generate multiple hydroxylated and other oxidised derivatives of lead compounds in parallel
Delivering a first class service to our clients worldwide
We contacted Hypha Discovery to generate specific phase I and phase II metabolite standards in sufficient quantities and purity to allow structural confirmation and quantitation. Hypha exceeded expectations, providing 60mg of a phase I metabolite and over 100mg of a phase II metabolite at high purity. Hypha's team was a pleasure to work with and communicative and responsive throughout the process. We will undoubtedly be working with Hypha Discovery in the future.
Jason Boer, Associate Director
Incyte Corporation, Wilmington, USA
The services conducted by Hypha allowed Alkermes to enhance our "Late Stage Functionalization" efforts to rapidly expand our SAR understanding inside projects. In particular, the PolarExplorer work allowed facile generation of hydroxylated compounds possessing a complex molecular core.
We look forward to engaging Hypha in the future because their team is professional, and their services complement our internal synthetic efforts for delivering new molecules.
Brian Aquila, Director of Medicinal Chemistry
Alkermes, Waltham MA, USA
Hypha Discovery did a fantastic job synthesizing N- and O- glucuronides of our clinical stage drug substance. The project updates were detailed, our questions were answered in a timely manner, and the overall timeline was maintained. Hypha was highly recommended to us and I would not hesitate to recommend them to a colleague
Joshua Day Ph.D, Director of Chemistry
Crestone, Inc., Colorado, USA
We're pleased to welcome Dr Samuel Coe to the team at Hypha as Business Development Manager. Samuel is a medicinal chemist by training having previously worked in the pharma space for Vertex, Charnwood Molecular and Evotec.
Stay up to date with the latest news from Hypha Discovery
Sign up for our Newsletter to receive interesting updates and scientific case studies about Hypha's metabolite generation capabilities and lead optimization solutions
Meet us at one of the conferences we'll be attending this year.
Read about our publications in the fields of metabolite synthesis, biotransformation and natural products chemistry
Access brochures on drug metabolite synthesis, Hypha's one-stop metabolite shop and the PolyCYPs platform
Ready to begin? Our scientists are available to talk through your requirements
Hypha Discovery is a UK-based CRO supporting pharmaceutical and agrochemical companies worldwide through the production of metabolites and new derivatives of drugs and agrochemicals in discovery and development.