Application of PolyCYPs for Metabolite Identification from Radiolabelled Mass Balance Studies
Hypha's PolyCYPs kits are in routine use by pharma and agchem companies for producing human and other mammalian metabolites. One application involves use of PolyCYPs for creating radiolabelled metabolites for direct comparison with the radio profiles from mass balance and distribution study samples, necessary for regulatory filing. PolyCYPs provides a clean route for scalable access to more of the CYP-derived metabolites observed in these matrices, for definitive MetID and any tox studies deemed necessary. This is especially useful where low concentrations or unstable metabolites in the mass balance sample make structural identification difficult.
One objective of radiolabelled mass balance studies is the identification of significant metabolites. EMA guidance recommend that if a drug metabolite contributes >10% of the AUC of the drug related material in circulation, then the metabolite should be structurally characterised. Likewise, EFSA guidance for pesticides necessitates metabolism studies, including requiring studies on relevant stereoisomers.

In this application a 14C radiolabelled agrochemical compound was incubated against 8 PolyCYPs enzymes and the metabolites compared with those detected in goat faeces as part of a radiolabelled mass balance study. High resolution LC-MS/MS showed oxidation of cycloalkyl and aromatic carbons of the compound by the PolyCYPs enzyme giving the best conversion for this compound. Subsequent LC-MS/MS analysis showed matching of metabolites in the radiolabelled goat faeces sample with the metabolites formed by PolyCYP 152. Therefore PolyCYP 152 could be used to access and scale-up these goat CYP-derived metabolites
Hypha's microbial biocatalysis process is effective at generating metabolites at up to gram scale. Through Hypha and Selcia's partnership, [13C], [14C], [2H], [3H] and [15N]-labelled metabolites can be accessed to support regulatory, development or research projects in the pharma and crop protection industries. Hypha establishes optimized processes using unlabelled or stable labelled parent substrates, which can then be transferred to Selcia's state-of-the-art radiochemistry labs for the production of radiolabelled metabolites.

In this case study at least 2 mg of a monohydroxylated metabolite (M4), originally observed in rat liver microsomes, was required by a US pharma company. Using PolyCYPs, the target metabolite was supplied to the client together with a Certificate of Analysis within 22 days from receipt of order, exemplifying the short timelines achievable using PolyCYPs to access CYP-derived metabolites.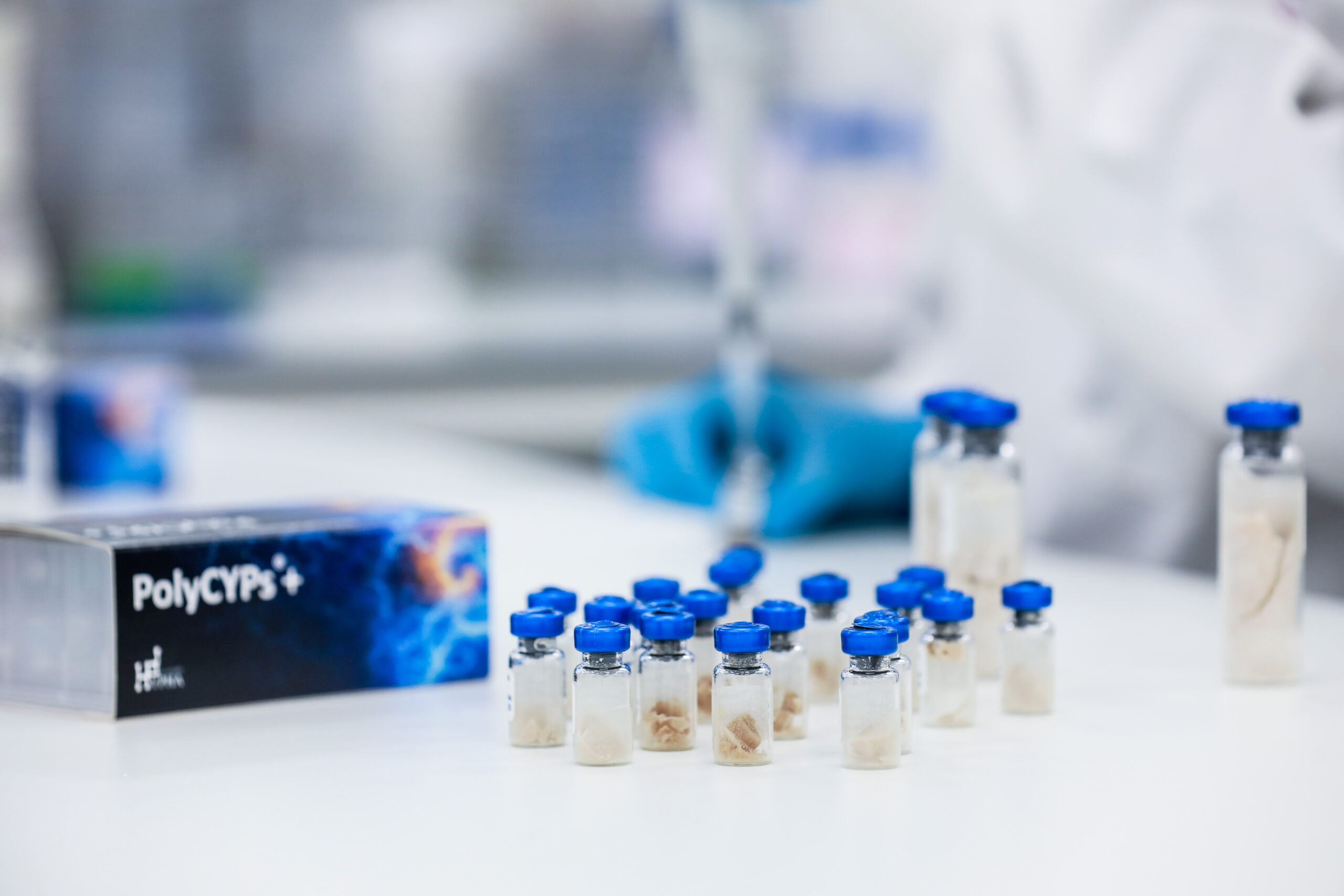 A cell-free kit of cytochrome P450 enzymes and ferredoxin/ferredoxin reductase redox partners, termed PolyCYPs®, is being developed for generating scalable quantities of oxidised metabolites. P450 cytochromes in the kit have been derived from some of Hypha's most talented biotransforming bacteria and are capable of generating human and other mammalian metabolites of drug compounds.