Production of Human and Novel Non-mammalian Metabolites of Cyclosporin A
It is well known that metabolites of drug compounds may have different efficacy and properties to that of the parent compound. Investigation and production of these metabolites is critical for exploration and understanding of SAR, and to ensure thorough patent coverage. Metabolites can also be sourced to create antibodies used in development of assays for therapeutic drug monitoring.
Hypha has the ability to create both mammalian and microbial metabolites of drug candidates at scale, in order to permit characterization and assessment towards full SAR and patent coverage. In this case study, all of the main human metabolites of cyclosporin A were produced using microbial biotransformation, resulting in selective oxidation at specific positions, as illustrated below. Additionally, novel microbial-derived metabolites were observed and isolated.
Selected PolyCYPs enzymes are also capable of generating metabolites of cyclosporin. AM6 was produced in a multi-mg quantity using a PolyCYPs reaction and its structure confirmed by NMR spectroscopy. It had previously only been reported based on characterisation of a microbial biotransformation of cyclosporin by HPLC-MS.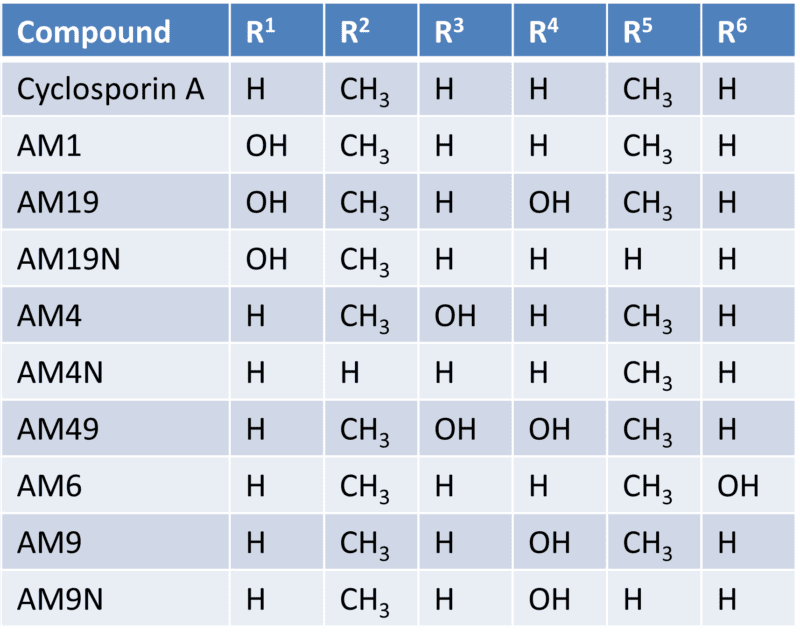 Hypha's microbial biocatalysis process is effective at generating metabolites at up to gram scale. Through Hypha and Selcia's partnership, [13C], [14C], [2H], [3H] and [15N]-labelled metabolites can be accessed to support regulatory, development or research projects in the pharma and crop protection industries. Hypha establishes optimized processes using unlabelled or stable labelled parent substrates, which can then be transferred to Selcia's state-of-the-art radiochemistry labs for the production of radiolabelled metabolites.

In this case study at least 2 mg of a monohydroxylated metabolite (M4), originally observed in rat liver microsomes, was required by a US pharma company. Using PolyCYPs, the target metabolite was supplied to the client together with a Certificate of Analysis within 22 days from receipt of order, exemplifying the short timelines achievable using PolyCYPs to access CYP-derived metabolites.