Synthesis of GSH Conjugates
GSH conjugate synthesis can be achieved chemically or, if reactive metabolites first need to be generated, using a two-step biotransformation approach.
GSH conjugation activity, either direct or mediated by glutathione transferases (GSTs), plays an important role in cellular detoxification against xenobiotics that undergo bioactivation to form reactive species.
Chemical trapping agents such as reduced glutathione (GSH) and N-acetylcysteine (NAC) can form stable adducts with many reactive metabolites which have been formed as a result of metabolic activation of drugs and agrochemicals. In addition, enzymatic degradation of some GSH conjugates may result in reactive intermediates that result in tissue injury. Consequently, these conjugates, which may constitute a flag for potential liabilities, are important to interrogate in evaluation of the risk of covalent modification of DNA and proteins, which may lead to adverse reactions such as drug-induced liver injury (DILI).
The conjugation of GSH can be reasonably simple to achieve via chemical synthesis when sufficiently reactive moieties are present in the parent molecule. However, the need for GSH conjugates more frequently arises due to the prior formation of reactive intermediates. In this case a two-step strategy is adopted to synthesise such metabolites through preparation of the phase 1 intermediate enzymatically, or through incubation with liver fractions, followed by trapping the reactive intermediate in situ with an excess GSH. 
This approach is suitable for the production of low mg amounts of GSH conjugations for definitive structural identification. This allows identification of the specific point of attachment, which can sometimes be less obvious or inaccessible via LC-MS/MS due to high lability of the thiol residues. 
N-acetylcysteine (NAC) can be used as a thiol acceptor instead of GSH to form NAC conjugates.
Production of a drug GSH conjugate by chemical synthesis and structure confirmation
In one client project over 100 mg of a GSH conjugate was produced through incubating the parent drug in weakly basic conditions in the presence of reduced glutathione. The material was purified to > 99% purity by LC-ELSD and the point of attachment confirmed by NMR spectroscopy.
Production of clozapine GSH conjugates by PolyCYPs and human recombinant CYPs
GSH conjugates can be produced by PolyCYPs enzymes and by human recombinant CYPs (hrCYPs) if reactions are conducted in the presence of glutathione.
To demonstrate this, clozapine was incubated against multiple PolyCYPs isoforms and rhCYPs and extracts analysed by LC-MS. Two clozapine GSH conjugates were formed by 5 PolyCYPs (PolyCYPs 334, 479, 484, 486 and 488), and which co-chromatographed with those produced by CYP1A2 and CYP3A4. No other GSH conjugates were formed by rhCYPs.
Alongside the GSH conjugates, PolyCYPs enzymes also produced oxidised and demethylated metabolites of clozapine.
Find out about synthesis of other metabolite types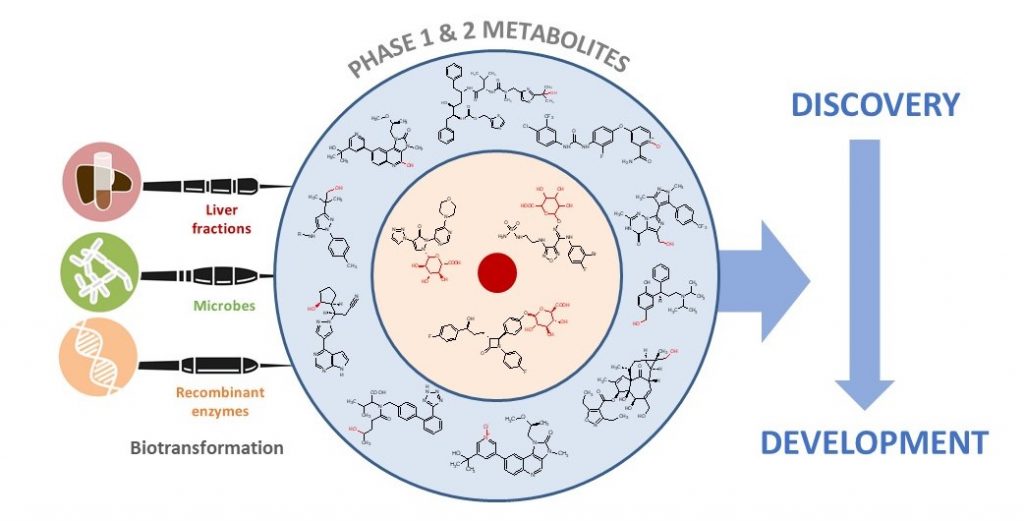 In this paper, authors from Hypha and Incyte Corporation discuss the impact and application of biotransformation of drugs by mammalian systems, microorganisms, and recombinant enzymes, covering active and reactive metabolites, the impact of the gut microbiome on metabolism, and how insights gained from biotransformation studies can influence drug design.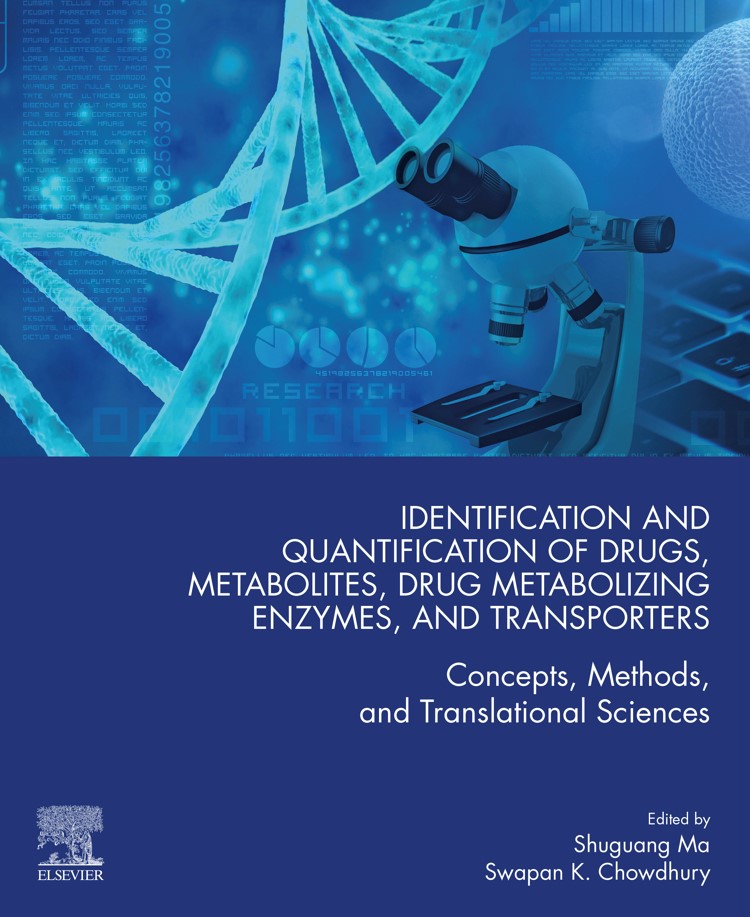 In Chapter 4 of the book on "Identification and quantification of drugs, metabolites, drug metabolizing enzymes and transporters", Hypha authors summarise the different methods employed for producing metabolites of drugs, illustrated with representative examples from the literature and work undertaken at Hypha. The chapter also includes a discussion and examples of the use of NMR spectroscopy for structure elucidation of metabolites.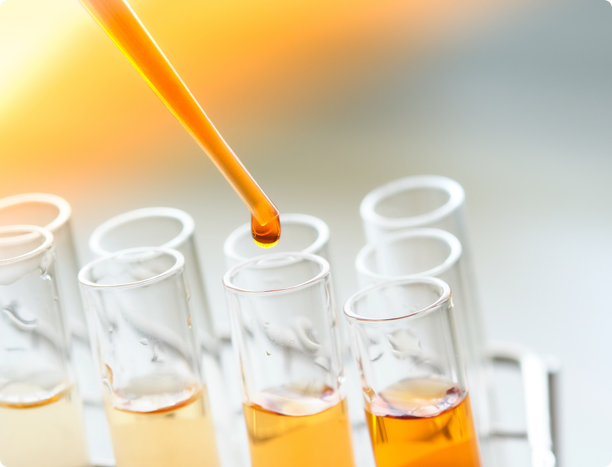 Hypha Discovery has been a valuable metabolite ID partner. Hypha have provided biotransformation, metabolite purification and structure elucidation answers to some of our most challenging metabolism and metabolite ID problems. We really appreciate the breadth of expertise available at Hypha Discovery and will definitely reach out for future work.
Ready to begin? Our scientists are available to talk through your requirements
Hypha Discovery is a UK-based CRO supporting pharmaceutical and agrochemical companies worldwide through the production of metabolites and new derivatives of drugs and agrochemicals in discovery and development.